A tree for all seasons!
The Dark Red Dogwood Tree boasts unusually colorful flowers, foliage, and fruit throughout the year to put on a delightful display. This ornamental tree truly has it all. In spring, its blush red flowers dazzle the eyes. By fall, glossy red drupe berries adorn its branches, and its green leaves turn to a purplish crimson. If you're looking for a splash of vivid color in your garden, this is the tree for you. 
Though the flowering tree is attractive year round, both spring and fall offer stunning displays of warm red color that give it its name. 
Glossy red foliage appears as new growth in spring. The red leaves mature to a green color in summer and early fall. When temperatures drop, the leaves fade to crimson red with a purple tint to put on a glorious fall display. Where the flowers faded, red fruit will appear in fall and winter.
Red dogwoods are deciduous and native to the United States. The leaves are an attractive Kelly green through summer and turn to lovely shades of crimson with hints of purple by fall. The bark of the dogwood tree is also attractive with its ashy grey charcoal color.   
The glossy, bright red fruit of the dogwood is a delicious treat for birds and wildlife throughout the fall and winter. For this reason, you may want to plant your dogwood in a location ideal for birdwatching. 
This early spring bloomer is the perfect small tree perfect for small spaces in the landscape or under utility lines. It's a lovely accent or focal tree so be sure to plant it somewhere where it can be enjoyed.
When Are Red Dogwood In Bloom?
A Red Dogwood tree reaches full bloom in the spring. A Red Dogwood produces several 1 to 2 ½ inch sized clusters of small flowers lasting about a week in the summer. 
Red dogwood flowers display lovely shades of red, pink, and white across four petals or "bracts". Individual petal-like bracts (modified leaves) feature a distinct indentation on the tip that sets them apart from other flowers.
The four showy bracts culminate and center around a yellowish-green cluster of tiny blooms. These subtle blooms are the true flowers of the tree. These delightful flower clusters can emerge from early to late spring and tend to attract butterflies! 
When To Prune Red Dogwood?
The best time to prune the red dogwood tree is while they are still dormant in the winter or the early spring. This tree can be shaped and made into an appealing form that fits your vision. Thoughtfully pruned branches will make the Red Dogwood more beautiful with every passing year.
How Big Does Red Dogwood Get?
When provided with optimal growing conditions, the Red Dogwood Tree can grow to a height of up to 25 feet and spread as wide as 25 feet as well, when fully mature. They can also keep a smaller size when grown in a container and adequately pruned. 
Red dogwoods are a medium to fast growing tree. Expect a new growth gain of 13 to 24 inches per year, depending upon rainfall and soil quality.
Red Dogwood Tree Care
Red dogwoods do best in the ground. However, if you have a smaller yard space and want to do container gardening, this tree can be grown in a large pot. 
Red dogwoods also prefer the shelter or protection offered by buildings or larger trees and can do well as understory trees. The red dogwood grows well in hardiness zones 5 through 9. This tree prefers full sun or partial shade. 
Red dogwoods do well in loamy, moist, acidic, sandy, and/or clay soil. Place your tree in an area that drains well.  
Value to Native Wildlife
The red dogwood provides shelter and food for a variety of birds and other animals. Cardinals, waxwings, and robins are especially fond of this tree. 
If you love flowers and want to add a bit of color to your outdoor garden space, consider incorporating the red dogwood into your landscape. These trees never fail to delight and inspire. 
To showcase your dogwood, try placing hostas, decorative stones, and solar accent lights around the base of your tree. 
Our red dogwood trees for sale are very popular and always sell out fast so order yours today!
Botanical Name
Cornus florida
Sunlight
Full Sun / Partial Shade
Growing Zones 5, 6, 7, 8, 9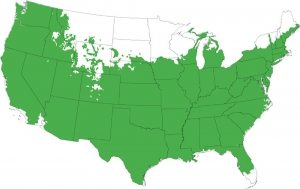 Customer Reviews
Write a Review
Ask a Question
Bought in the fall, so it's leaves were starting to change colors (I think they look beautiful). Husband got them planted this weekend.
06/17/2022
Perfect Plants
Hi Gina. We're happy you are happy with your Red Dogwood Tree. We agree, leaves changing colors is the best. Happy planting!
Bought the tree and the box was full of flower petals. 4 stars because I wish it had not lost so many flower petals during shipping.
06/17/2022
Perfect Plants
Mary Ann, we appreciate your review and will be sure to share with our team. Hope your Red Dogwood Tree is blooming as expected. All the best.
Frankly I think that's absolutely good stuff.
06/17/2022
Perfect Plants
Thank you Leatrice. Hope you're enjoying your Red Dogwood Tree. Take care!