Buy
Triple Crown Thornless Blackberry Bush Online
Plump & Juicy Berries to Grow in Your Garden
The Triple Crown Thornless Blackberry Bush will have you jumping for joy with plump blackberries produced every summer!
Thorn-free & fruitful, the Triple crown blackberry plant produces bushels of sweet blackberries that are so easy to grow! This trailing blackberry bush can be planted in the ground or in containers if you have little yard space.
In early spring, the triple crown thornless blackberry plant produces light pink or white flowers that eventually mature into 2-inch fruit during summer. Contrasting is dark green foliage that lines the canes all year long.
Triple crown blackberries are known for their sweet juicy taste and fruitful harvest. They can sometimes produce several pounds of fruit with ease.
 Thornless Triple Crown Blackberry Care
Growing triple crown thornless blackberry is so easy! Being a lover of hot weather, triple crown blackberry growing zones are best in 5-9. Choose a planting spot with full sun for at least 6-8 hours to get the most fruit. 
This blackberry variety exhibits excellent cold hardiness and plants will survive the winter temperatures if covered during hard freezes.
Triple crown blackberry spacing should be at least 4 feet apart between each bush. We recommend planting triple crown blackberries in early spring or early fall for the best results!
Apply a slow-release fertilizer every spring to help boost their growth and fruit production during the active growing season.
Do Triple Crown Blackberries Need a Trellis?
Your triple crown blackberry trellis is optional! They are certainly not required to keep these berry bushes growing or producing fruit. If your berry bushes canes grow wild and unsightly, it might be beneficial for you to add a trellis to help support the heavy canes.
How Big are Triple Crown Blackberry Bushes?
Triple Crown Blackberry Bushes grow pretty fast and can reach a height of 4 to 5 feet and a width of 3 to 4 feet at full maturity, which makes them good choice if you're looking to buy dwarf fruit trees. 
Are Triple Crown Blackberry Bushes Everbearing?
Triple Crown Blackberry Bushes are a semi-erect cultivar that may be overbearing in certain climates, meaning it will produce fruit on old canes, which are ready every two years, with an additional harvest grown on new canes. 
How Long Does it Take for Thornless Blackberries to Fruit?
Usually, any blackberry bush variety will take about 2 years after planting to produce fruit. The Triple Crown Blackberry bushes are known for producing large amounts of sweet blackberries.  Our thornless blackberry plants are grown and ready to produce fruit so you can start enjoying delicious blackberries sooner after planting. 
Are Triple Crown Blackberries Trailing?
Triple Crown blackberry bushes are a semi-erect variety, meaning they grow somewhat upright. Because of this, the vines will begin to grow and trail if you don't prune them or train them. 


Shop the triple crown blackberry plants for sale and start enjoying fresh thornless blackberries from your own garden today!
Check out all our berry bushes for sale.
Botanical Name
Rubus fruticosus 'Triple Crown'
Sunlight
Full Sun
Growing Zones 5, 6, 7, 8, 9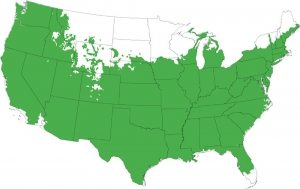 Customer Reviews
Write a Review
Ask a Question
Will order again!
Overall, it was good. The plants had several broken limbs and were very stressed upon arrival- but in North Texas we're having a heat wave. They appeared to have been handled a bit roughly by the shipping carrier, but they were alive and are showing new growth already. I love this nursery and will order more berry bushes as soon as they are in stock.