How to Brine Arbequina Olives at Home
One of the most rewarding experiences we hear from our gardeners is when they take the step into brining fruit from their arbequina olive trees. There's something inherently satisfying about transforming fresh-picked olives from the tree into a delectable, tangy treat that will elevate your culinary creations. In this article, we'll guide you through the process of brining the arbequina olives at home, ensuring you have a delicious supply of olives in brine throughout the season. So, don your apron and get ready to dive into the world of olive curing with our tried-and-true olive brine recipe.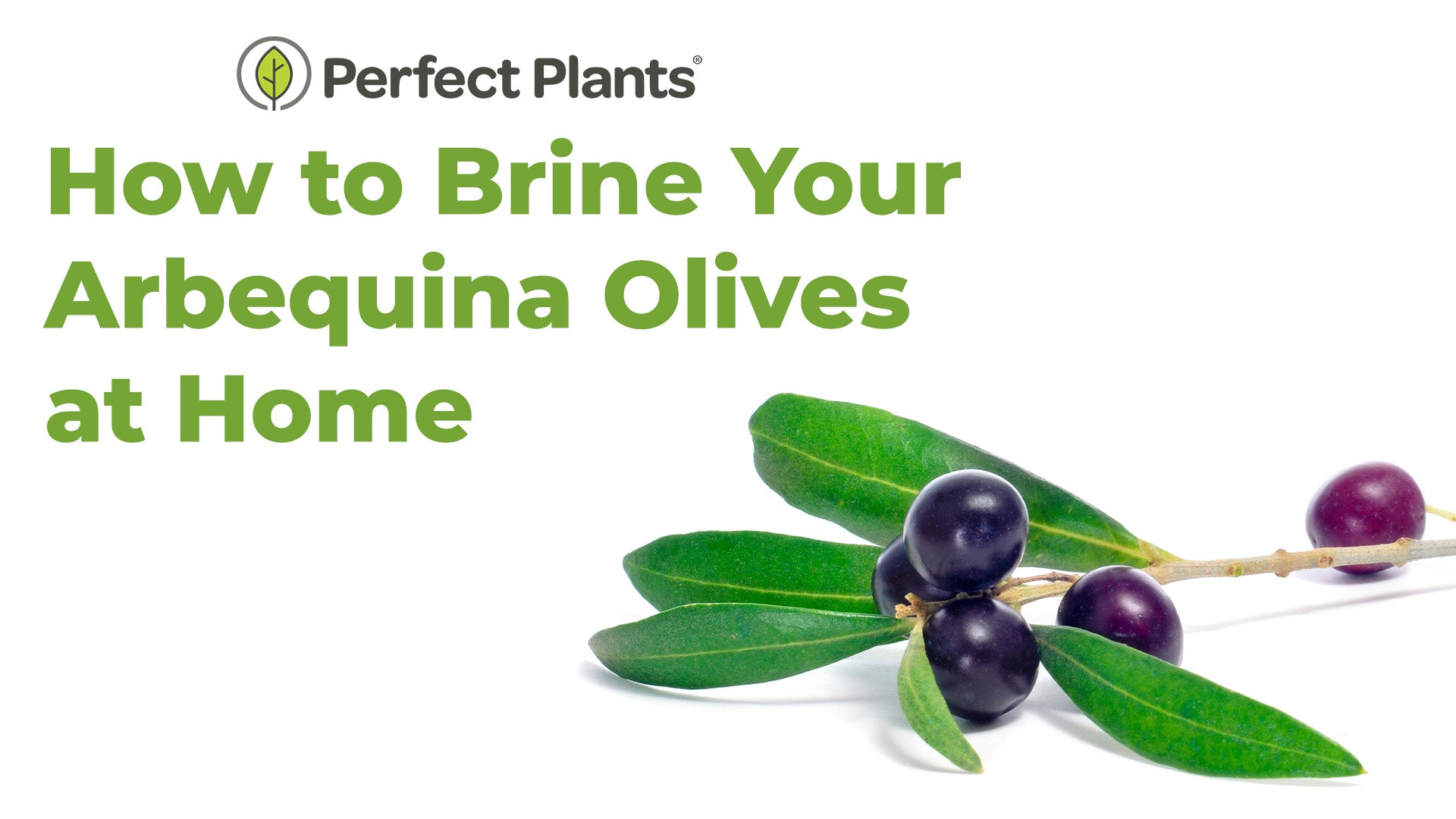 The journey to brining perfection begins with the harvest. Early fall is the ideal time to pick arbequina olives, when they're at their peak ripeness. Pluck the olives directly from the tree, taking care to avoid bruising. Select only the unblemished, firm olives for the best results in your brining adventure. You'll know which olives to pick by seeing if they're black or at least half black, representing that the olives are ripe.
How to prepare your olives before brining:
Wash the Olives:

Give your freshly picked Arbequina olives a gentle rinse under cold water to remove any dirt or debris

.

Slit Each Olive: To allow the brine to penetrate and cure the olives effectively, make a small slit or a shallow cut in each one.
Soak in Water: Submerge the olives in a large bowl of water and change the water daily for about a week. This step helps to leach out the bitterness from the olives
The heart of the olive-curing process is the brine! Here's our recipe:
1 gallon of water

2 cups of kosher salt

1/4 cup of white vinegar

1 lemon, sliced

2 cloves of garlic, crushed

2 sprigs of fresh rosemary

1 bay leaf
In a large pot, bring the water to a boil.

Stir in the kosher salt until it's completely dissolved. Allow the brine to cool to room temperature.

Add the white vinegar, lemon slices, crushed garlic, rosemary sprigs, and bay leaf to the brine. Stir gently to combine.
Now that you have your brine ready, it's time to immerse your olives. Follow these steps:
Place the prepared olives into glass jars or food-safe plastic containers.

Pour the brine mixture over the olives, making sure they are fully submerged.

Seal the containers tightly and store them in a cool, dark place for curing.

Check the olives regularly, ensuring they remain submerged in the brine. If any mold forms on the surface, skim it off immediately.
Ready to Grow Your Own Olives?
Curing arbequina olives in early fall is a rewarding culinary journey that yields a delightful and versatile ingredient for your kitchen. Whether you use them in salads, as a garnish for cocktails, or simply as a snack, your homemade brined olives will add a touch of Mediterranean magic to your dishes. With this olive brine recipe and a little patience, you'll have a bounty of olives in brine to enjoy throughout the season. So, embrace the ancient tradition of olive curing, and savor the flavors of fall like never before!