Order Apache Blackberry Online
Sweet Black Berries on Thorn Free Vines
Apache Blackberry plants are the perfect fruitful berry bush to add to your home garden!
Produced by the University of Arkansas' blackberry program, the Apache Blackberry Bush features large, plump thornless blackberries that ripen in the first year of planting. With extra sweet and flavorful mouthfeel, not only are they delicious to eat but they are ridiculously easy to pick off the erect thornless canes.
With light pink flowers produced in early spring, you can pick blackberries as soon as mid to late June. The erect canes will produce glossy black fruit on new growth every year with a high yield. Contrasting the blackberry fruit are green leaves that will stay on the plant all year long to produce an attractive specimen plant for your fruit tree or berry collection.
The high productive value, excellent flavor, and large fruit size make this berry bush a great contender for eating fresh off the bush, using in cobblers or desserts, or for canning into jellies or jams. There are a multitude of uses for blackberries in the garden including having them in flower beds to show off the beautiful spring flowers, planting in containers for small spaces, or having them as stand alone plants.
Planting Apache Blackberries Bought Online
It's easy to plant Apache blackberries. The mature Apache blackberry bush can grow 5 to 8 feet tall and between 4 to 8 feet wide, making it perfect for small spaces in the garden. They grow best in USDA zones 5-9.
To start, choose a planting spot with well-draining soil. Make that the planting area gets a minimum of 8 hours of full sun to grow blackberries to their prime and full size. You can also plant them in an area with partial shade but this may yield smaller fruit and less of it.
You'll need to water your Apache blackberry plant thoroughly for the first few weeks to help the roots spread and establish themselves. Once established, an Apache Blackberry trellis is not required to support the developing canes that produce fruit. 
Apache Blackberry Taste
People grow Apache blackberry plants because of their high production of large size thornless blackberries. Apache blackberries are large, very juicy, and have a great sweet flavor, making them popular to use in pies, jams, jellies and more. 
How to Care for Your Apache Blackberry Bought Online
Caring for Apache blackberry plants is simple. They love the heat of the Southern states and are drought tolerant once established. Grow Apache blackberry bushes in moist, well draining soil that is slightly acidic and rich in nutrients. You can amend your native soil with our Acidic Potting Soil to help lower the acidity of your soil pH if necessary. Mulch the root zones at ground level with organic matter thoroughly to help retain moisture during the active growing seasons.
Apache blackberry bushes are self-fertile meaning no pollination partner is needed to produce berries. 
Apache Blackberry Chill Hours
The Apache blackberry requires 400 to 500 chill hours before they switch from dormancy in the winter to their reproductive cycle when they start to bloom and produce fruit.
Shop our Apache Blackberry plants for sale for an easy to grow berry bush that any gardener can keep thriving and enjoy berries every year!
Check out all our berry bushes for sale.
Botanical Name
Rubus fruticosus 'Apache'
Full sun
Growing Zones 5, 6, 7, 8, 9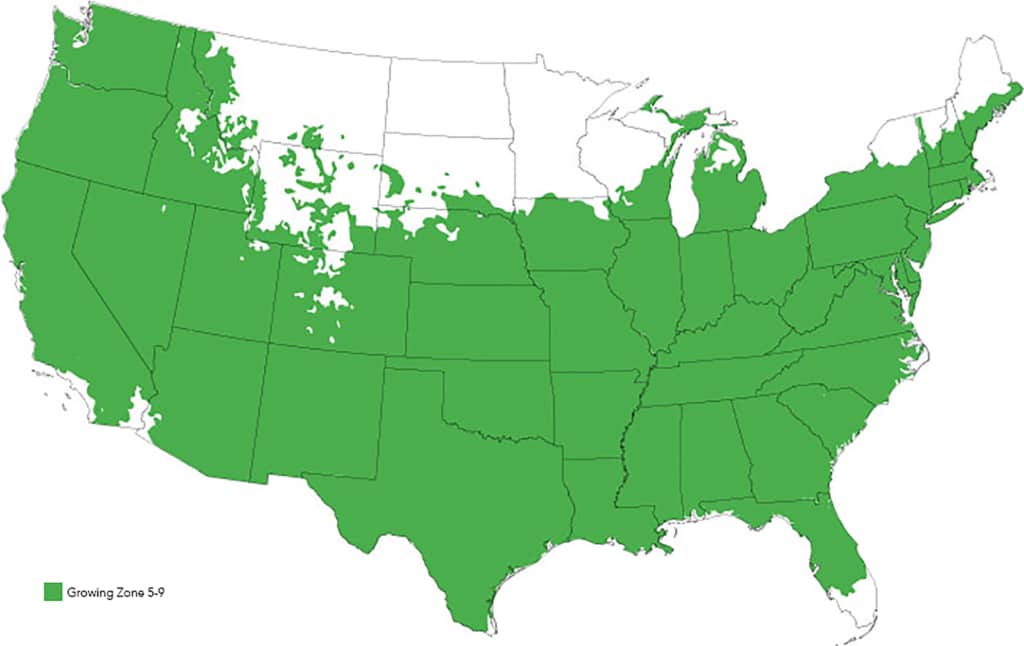 Customer Reviews
Write a Review
Ask a Question
05/24/2023
Lisa W.

United States
Looking Good
Our blackberry plant arrived well packed and healthy. It even had some developing berries.
07/06/2023
Perfect Plants Nursery
Hi Lisa! We are delighted to hear that your Apache Blackberry Bush arrived in great condition and with developing berries! It's always a pleasure to know that our customers are satisfied with their purchases. We hope that you continue to enjoy watching your blackberry plant thrive and that you have bountiful harvests of delicious berries in the future. Should you have any further questions or concerns, please do not hesitate to reach out to our knowledgeable team. Thank you for choosing Perfect Plants, and we look forward to being of assistance to you in the future!
07/29/2022
Sandi H.

United States
Amazing Bush!
This wonderful bush arrived just days before our current triple digit heatwave. After transplanting and watering daily, the heat seared the foilage and most of it died. However, with care and double watering, the bush came roaring back and is full of bright green leaves. This is the second time I've ordered from Perfect Plants, and I couldn't be happier. I will be ordering again.
08/28/2022
Perfect Plants Nursery
Hi Sandi! Wow, sorry to hear about the close call with your Apache Blackberry Bush but glad it's thriving. We appreciate your continued support and hope you stay well. Take care!