Carolina Sapphire Arizona Cypress Tree For Sale Online
Bright Green-Blue Foliage Stays Evergreen & Smells Like Christmas!
Native trees are a major focal point in many landscapes and the beauty of an evergreen tree is providing green color all year long. The Carolina Sapphire Arizona Cypress tree will do just that with its fine-textured silvery blue-green foliage.
Cupressus Arizonica var. glabra 'Carolina Sapphire' is a silvery blue evergreen with a feathery texture that makes a great wind barrier because of how large it gets. Carolina Sapphire Arizona Cypress grows in a pyramidal-shaped growth habit and, as a conifer, produces round-shaped cones each year.
The Carolina cypress tree has reddish-brown bark that is barely noticeable underneath the electric blue needles. It is sure to light up any landscape and is highly noted for its aromatic fragrance. Some growers even use this as a Christmas tree during the holidays!
The Sapphire Cypress tree is best grown as an evergreen hedge, privacy screen, or specimen plant where its uniqueness can be enjoyed.
CAROLINA SAPPHIRE ARIZONA CYPRESS CARE
Plant this fast-growing tree across the United States in USDA hardiness zones 6-9. It grows best in full sun but can tolerate partial shade planting spots. Moist, well-draining soil is best to support the health of the tree as they do not like water-logged sites. It is adaptable to many other soil types and is considered a low-maintenance tree.
Carolina Sapphire Arizona Cypress Growth Rate
The Carolina sapphire cypress size is up to 30-40 feet tall and 15-20 feet wide at full maturity. Blue Sapphire Cypresses have a very fast growth rate of up to 2-3 feet per year.  Pruning Arizona Cypress is not needed unless to maintain the desired size and shape you want. The recommended Carolina Sapphire Cypress fertilizer is a slow-release fertilizer applied annually in early spring that will help give the privacy tree a good boost of healthy growth.
Carolina Sapphire Cypress Spacing
It is recommended to plant this ornamental tree 5-10 feet apart if a privacy fence is your desired look. After planting, add a 2-inch layer of mulch to help retain moisture.
There are very few Carolina sapphire cypress problems. The Arizona Blue Cypress tree is deer resistant, pest resistant, salt-tolerant, and drought-tolerant once established. The Carolina sapphire cypress watering schedule varies on temperature but should be watered daily or every other day until the tree has fully established. 
Shop the Carolina Sapphire Arizona Cypress for sale.
Shop all our Cypress trees for sale.
Botanical Name
Cupressus glabra 'Carolina Sapphire'
Sunlight
Full Sun / Partial Shade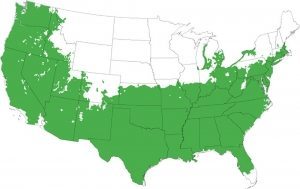 Customer Reviews
Write a Review
Ask a Question
So far so good. Trees arrived in good condition. All of them planted with care. I am hoping they do well.
06/24/2022
Perfect Plants
Thank you for your feedback, Phillip. Hope your Carolina Sapphire Arizona Cypress Tree is thriving!
Plants arrived promptly and in good condition. So far I am very happy.
06/21/2022
Perfect Plants
Thank you for your kind words, Phillip! Glad to hear your Carolina Sapphire Arizona Cypress Tree arrived safe and sound. Take care!
I ordered 5 of these trees. 4 to 5 ft. They arrived in perfect condition. The packaging was way far better than I expected. All in all a great experience and my trees look beautiful. Will order again without hesitation.
06/21/2022
Perfect Plants
We truly value your continued support, Bob and happy to hear everything went well with your Carolina Sapphire Arizona Cypress Tree. All the best.