Buy
Hachiya Persimmon Tree Online
Sweet Orange Fruits Are Easy to Grow in Home Gardens!
The Hachiya Persimmon Tree is one of the easiest fruit trees to grow and for good reason!
Hachiya persimmon fruit is super sweet, easy to pick right off the tree, and perfect for incorporating into baked goods or canning.
Like its cousin, the Fuyu Persimmon, the color of the Hachiya fruit can range from shades of light orange to burnt amber. The deep orange fruit has large in size and is acorn-shaped.
Ripe Hachiya persimmon taste can be described as very sweet with hints of apple, apricot, and citrus. Hachiya is an astringent persimmon variety which means it's best to eat the fruit once it has softened on or off the Diospyros kaki 'Hachiya' tree. Harvest in late fall from October to December for a bountiful harvest.
The Oriental persimmon tree is highly productive and also has excellent fall foliage making it a gem in the garden! The bright green leaves will turn to shades of yellow and orange when temperatures start to dip in the fall. The fall colors make this a wonderful addition to home gardens!
How to Tell if a Hachiya Persimmon Is Ripe?
You can pick the oriental persimmon Hachiya before it has ripened on the tree and allow it to ripen off the tree. You will know when the fruit is ready to eat once the outer skin has softened to a squishy consistency like a water balloon. If eaten before becoming fully ripe, the fruit will have an astringent taste.
How to Eat Hachiya Persimmon Fruit?
Hachiya is best eaten right off the tree when ripe. You can also store unripe fruit in a cool, dry place at room temperature until it has time to ripen. The unripe fruit will emit ethylene gas, similar to apples and bananas, to help it speed up the ripening process. Hachiya fruit is commonly used in baked items and canned goods such as jellies or jams. It also makes a delicious ice cream flavor!
Whole, ripened fruit can be stored in the freezer for later use or you can also dehydrate persimmon fruit for a tasty and healthy snack. Dried fruit is an excellent way to store extra harvests for later use and is packed full of nutritional benefits.
Hachiya vs. Fuyu Persimmon
Hachiya is an astringent variety, while Fuyu is a non-stringent variety. Fuyu's fruit will stay crisp like an apple while Hachiya gets so soft that the pulp is almost liquified. Hachiya has a high level of tannins so that if eaten unripe it will not taste favorable.
Hachiya persimmon variety has a more elongated fruit size like an acorn, while Fuyu has an oval-sized fruit like a donut.
Both persimmon varieties are sweet with hints of pumpkin and cinnamon in their fruit and are delicious eaten fresh or used elsewhere in the kitchen!
How to care For Your Hachiya Persimmon Tree Bought Online
The Hachiya persimmon tree height can reach up to 20 feet tall and 15 feet wide at maturity once planted in the ground. They have a moderate growth rate of 1-1.5 feet per year. We recommend pruning in late winter after fruiting has finished maintaining a desirable size and shape.
The best location to grow Hachiya persimmon trees is zones 7-10 across the United States. They need at least 200 chill hours, which is fairly low and makes them perfect for Southern climates. The hotter the summer, the sweeter your fruit will taste.
Full sun is required to make this fruit tree happy. At least 6-8 hours of direct sunlight will help with fruit production. The tree will begin to bear fruit after 1-3 years of being planted.
Hachiya persimmons are self-pollinating, meaning they don't need another tree nearby to cross-pollinate. Being this beautiful tree can stay small and compact, it is perfect for home gardens or small spaces like patios!
Shop the Hachiya Persimmon tree for sale!
Check out all our fruit and nut trees for sale.
Botanical Name
Diospyros kaki 'Hachiya'
Sunlight
Full Sun
Growing Zones 7, 8, 9, 10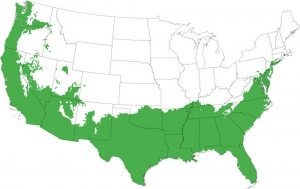 Customer Reviews
Write a Review
Ask a Question
05/20/2023
Rubi G.

United States
Love it!
The tree arrived in excellent condition. It was already bearing little persimmons too! I can't wait to plant it onto its permanent spot soon.
08/11/2023
Perfect Plants Nursery
Hi Rubi, We're so stoked to hear that your Hachiya Persimmon tree arrived in excellent condition and it's even got little persimmons already! It's like Mother Nature couldn't wait to show off. Get ready to give that tree a cozy spot in your garden and watch it thrive. Happy planting, Shirley
11/15/2022
Anonymous

United States
Perfect plants
I love ordering from you guys all the time. Great customer service and great trees
01/19/2023
Perfect Plants Nursery
Hi there, Thank you so much for the review of our Sweet Drift Rose Bush, we really appreciate it! Best, Shirley
04/07/2022
Anonymous

United States
Persimmon and Vermiculite
Very positive experience with plants, and customer service.
06/26/2022
Perfect Plants Nursery
Hi! Thank you for your kind words and your Hachiya Persimmon Tree purchase. Hope all is well.