Order Ichi Ki Kei Jiro Persimmon Tree Online
Early Ripening Persimmon Variety with Sweet Orange Fruit!
Meet the Ichi Ki Kei Jiro Persimmon Tree... The most cold hardy persimmon tree on the market!
The Ichi ki Kei Jiro Oriental persimmon is a non-astringent persimmon variety that ripens earlier than most other persimmons. Non-astringent means they stay crisp like an apple, similar to the famous Fuyu Persimmon tree.
Producing medium to large-sized fruit that is bright orange in color, Japanese persimmons are very nutritionally dense and healthy, and always sweet! Fully ripe fruit will stay firm to the touch and are oblong and shaped like a donut.
The Ichi ki Kei Jiro persimmon taste can be described as sugary and mellow, like a banana and a mango mixed. This hardy Asian persimmon tree is extremely easy to grow, good for small yards, and home gardens for extra special edible landscaping options.
Oriental Persimmon Tree Care
Persimmon fruit trees are self-fertile meaning they do not need another tree nearby to cross-pollinate and produce fruit. All you need is one persimmon tree and you'll have enough edible fruit to feed the whole family.
Grow the Ichi persimmon tree across the United States in USDA hardiness zones 6-9. It is perfect for growers in colder zones that still want to grow this sweet and tasty fruit!
The mature size of this diospyros kaki tree is up to 8-10 feet tall and wide. Staying small and compact, you can even grow the Ichi tree in containers on your patio for gardeners in small spaces.
Full sun is required for best fruit production as well as slightly acidic and well-draining soil. The tree will bear fruit 2-4 years after planting and is best harvested from September to October, which is earlier than most other persimmons.
Be sure to water regularly to help the tree establish a strong root system during the first year of planting.
Shop the Ichi Ki Kei Jiro Persimmon tree for sale today!
Check out all our Persimmon trees for sale.
Botanical Name
Diospyros kaki 'Ichikikeijiro'
Sunlight
Full Sun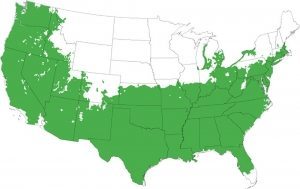 Customer Reviews
Write a Review
Ask a Question