Shop Fuyu Jiro Persimmon Tree Online
Self Fertile Persimmon Variety with Sweet Fruit
The Fuyu Jiro Persimmon Tree produces sweet and crisp fruit like an apple!
Known as an improved variation of the Fuyu Persimmon and of equal popularity, Jiro Persimmon fruit is colorful and of high grade. It has good storage qualities and is very popular in Japan! The yellow fleshed fruit is non-astringent, always seedless, and always sweet.
Beginning in spring, white flowers will eventually mature into medium to large fruit that is bright orange, firm, and juicy. Japanese persimmon fruit ripens from September through October and produces high yields of up to 50 lbs per year.
Contrasting, the Jiro Persimmon fruit, the beautiful tree boasts dark green foliage all year long. When temperatures drop in fall, the foliage will change colors to stunning shades of yellow, orange, and red. The fall colors are one of the many reasons why persimmon trees are so attractive in home landscapes.
It's perfected planted in home gardens or adding to fruit tree orchards. Being self fertile, you only need one tree to produce loads of orange fruit!
How to Care for Your Fuyu Jiro Persimmon Tree Bought Online
Grow this variety of persimmon across the United States in USDA growing zones 7-10. Full sun is required for at least 6-8 hours every day and 200 chill hours minimum for fruit set. Well-drained soil that is slightly acidic, like our Fruit Tree Planting Mix, is best.
The Fuyu Jiro persimmon tree size is up to 10-15 feet tall and wide at maturity. This size can be easily maintained by annual pruning techniques to keep it at a manageable height for fruit picking.
Asian persimmon trees are heat and drought-tolerant, and are rarely bothered by pests or diseases. Trees will produce the orange skinned fruit within 2-3 years of planting.
Shop the Fuyu Jiro Persimmon tree for sale today!
Check out our Persimmon trees for sale as well as all our fruit and nut trees for sale.
Botanical Name
Diospyros kaki 'Jiro'
Sunlight
Full Sun
Growing Zones 7, 8, 9, 10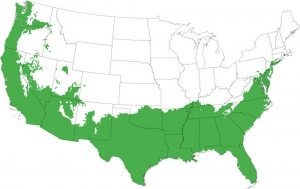 Customer Reviews
Write a Review
Ask a Question
05/24/2022
George T.

United States
Beautiful Fuyu Jiro Persimmon Tree
I bought 2 persimmon trees which are very healthy and beautiful. I wish the trees were shipped separately because one tree had couple branches broken off and the tops of 2 trees got banged up a little bit during the shipping. However, the trees look gorgeous overall. I gave one away and mine grows very well so far. If jujube trees are available in the future, I will buy them.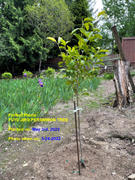 06/07/2022
Perfect Plants
Hi there, Thank you for leaving us a review on your purchase of our Fuyu Jiro Persimmon Trees. We're happy to know that you are satisfied with them. Best, Shirley
05/18/2022
Anonymous

United States
Strong live trees!
Trees arrived with full leaves unlike most mail order trees (I had one never grew any leaves abs died on me). Very fresh, very strong, young trees. Communications with vendor easy and efficient. The rootball was well protected with good soil and mulch. I have planted both trees and hope they will grow into bigger strong trees soon. Thank you.
06/07/2022
Perfect Plants
Hi there, Thank you for your awesome support of our family-owned business, we really appreciate customers like you that take a bit of time from their day to leave us a great and honest review. We hope you love your new plant and that it thrives for years to come. Best, Shirley
05/12/2022
Russell

United States
Perfect
I ordered same trees from a company out of GA and FL. I ordered several more from FL because Perfect Plant trees arrived very healthy and full of life. All my future orders will be from perfect plants now. Very happy customer.