Shop Osage Blackberry Bush Online
Deliciously Sweet Blackberry Variety That's Easy to Grow. Pick Effortlessly with Thornless Vines
The Osage Blackberry plant is so easy to grow! With thorn-free vines and a fast growth rate, you can have blackberries in the first year of planting.
Producing fragrant flowers in early spring, they eventually mature into medium-sized berries in June. Osage thornless blackberry has excellent flavor and great storage potential qualities.

Green foliage emerges in spring to flush out the erect canes until fall and winter. The blackberry bushes leaves will fade and die back during winter in most climates.
Produced by the Blackberry Breeding Program at the University of Arkansas, Osage ripens sooner than Ouachita and has a higher yield. This makes it perfect for mass plantings, used as a blackberry hedge, or kept in containers for small spaces alike.
Thornless Blackberry Osage Care
Best grown in USDA hardiness zones 6-10 with at least 400-500 chill hours. Full sun is required for fruit production. A nutrient-rich soil will keep this effortless blackberry variety producing a bounty of fresh berries year after year. Apply a slow-release fertilizer in early spring to aid in growth and fruit-bearing.
The full size is up to 4-5 feet tall and 3-4 feet wide at maturity. The canes will die back with a hard freeze every year but come back with vigor and new growth each spring.
The floricane blackberry produces fruit on new wood so be sure to prune back all fruiting canes after they are finished fruiting to increase fruit load.
Osage blackberry canes are erect but have a trellis as support
Shop the Osage blackberry plants for sale today and add them to your fruit tree collection!
Browse all our fruit and nut trees for sale.
Botanical Name
Rubus fruticosus 'Osage'
Sunlight
Full Sun
Growing Zones 6, 7, 8, 9, 10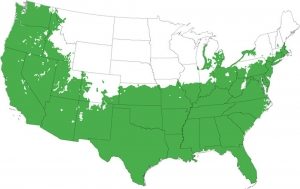 Customer Reviews
Write a Review
Ask a Question
05/11/2022
Howard

United States
Great Berries
We bought 5 bushes and they showed up looking very nice! Would buy again! Alex
06/26/2022
Perfect Plants
Thank you Howard for your 5-star rating and your Osage Blackberry Bush purchase. Happy blackberry picking! See you around.