Never Forget to Water Your Trees or Have them Go into Drought Stress!
The Dewitt Tree watering bag is easy to install, reduces water waste, and guarantees that your tree is regularly receiving an adequate amount of water. This watering method delivers water straight to the root system and promotes deep root growth. Saves you time and money!
If you have ever questioned just how much water your plants are actually getting, question no more! Dewitt slow release watering bag that reduces the effects of transplanting, run off, or evaporation.
The convenience of the tree watering bag eliminates dragging the hose around and the possibility of your tree or shrub wilting. It is a quick and easy installation to ensure the safety and health of your newly planted trees.
Tree Watering Bag Instructions
The drop bag watering system holds 15 gallons of water and continuously waters your trees and shrubs for up to eight hours. Depending on the trunk caliper, the bag may need to be filled up to three times per week. Watering frequency can vary depending on several factors. No need to practice a regular watering schedule when the tree bag for watering to handle that for you.
The watering bag instructions will be provided. It is easy setup in minutes with no tools. The double bag setup will help with deep water saturation straight to the tree's roots. Simply fill and walk away to allow the tree  bag to deliver a high volume
It features a low profile design that stays low to the ground for deep waterings. It is large enough for many trees with smaller trunk diameters from 1-8 inches and this enables it to fit any of our flowering trees, privacy trees, or fruit trees.
Perfect fit under plantings with branches beginning only above ground or higher since this watering bag for plants fits at the bottom of the tree trunk. Use for the proper watering frequency for each specific tree and soil type.
Consult a local gardening professional for more information. Or you can contact us for any questions you may have!
Tree watering bags are also available from the checkout page. Shop now!
Customer Reviews
Write a Review
Ask a Question
06/01/2022
Dallene W.

United States
Love my Pinky Winky Hydrangea Tree
I received my tree in great condition and planted it after about a week. I used the Treegator Jr and the tree is blooming gloriously! It does require lots of water so the gator has really helped. I will enjoy my Pinky Winky Tree fir years to come!!
06/07/2022
Perfect Plants
Hi there, Thank you for leaving us a review on your purchase of our Treegator. We're happy to know that you are satisfied with it. Best, Shirley
04/19/2022
Anonymous

United States
Let's grow together.
Seeing that I love plants it was an experience of a life time to plant my own palm tree my state symbol and to watch her grow for years to come.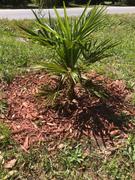 06/26/2022
Perfect Plants
Hi! Thank you for your kind words. Hope you enjoy your Treegator® Jr. Pro for many years to come. Take care!